Gb Altered Ukulele Scale - D-Tuning
D-Tuning (ADF#B).
View this scale in: Standard Tuning (gCEA)G-Tuning (DGBE)Slack-key Tuning (gCEG)
Also known as the altered dominant scale this mode has every non essential tone altered. Basically the root note is the only note not altered in this scale. All pitches are lowered except C in the C altered dominant scale of C Db Eb Fb Gb Ab Bb.
Diagram/Chart

Staff Line Notation

Scale details
Type : Melodic minor
Number of notes : 7
Formula : 1,b2,b3,b4,b5,b6,b7
Notes : G♭, G, A, B♭, C, D, E
Intervals : H,W,H,W,W,W,W
Degrees : G♭ (I - tonic), G (II - supertonic), A (III - mediant), B♭ (IV - subdominant), C (V - dominant), D (VI - submediant), E (VII - leading tone)
Scale Positions
You'll find below the 5 different positions/shapes of the Gb Altered Uke scale in D-Tuning (ADF#B), along with their ascending tab patterns.
Position #1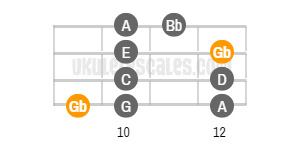 Position #2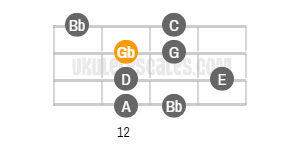 Position #3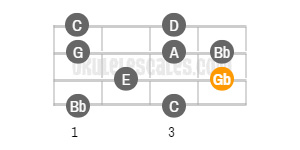 Position #4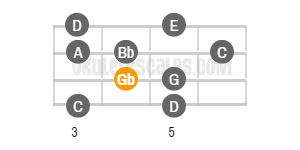 Position #5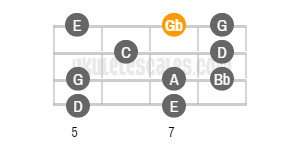 Comments
Got questions? Want to share a tip or simply talk uke? Join the conversation!